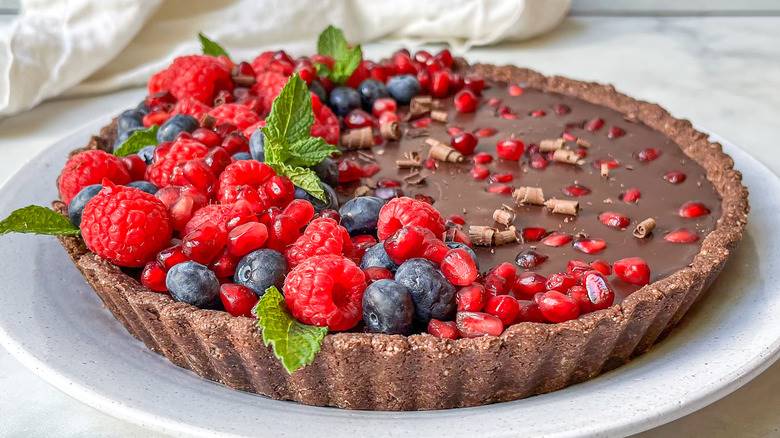 If you're cooking for guests with dietary restrictions, it can be a challenge to find recipes that are vegan, gluten-free, and paleo-friendly, but will also appeal to those who don't typically follow such diets. Well, we think we've got you covered here with this chocolate pomegranate tart. While chocolate and pomegranate may not be as well-known a combination as chocolate and strawberries or raspberries, the two flavors work really well together.
The tart has some coconut flavor as well since both coconut oil and milk are used as dairy substitutes, plus the crust is made with a combination of coconut and almond flour. Speaking of the crust, it also has a hint of spice. "The cardamom," says recipe developer , "gives it a spicy, fruity flavor which is a nice combo along with the chocolate and pomegranate." The filling she describes as being "intensely chocolaty with the best chew and slight fruity tartness from the pomegranate" and overall, this is a winning dessert for just about anyone with any dietary restriction.
Gather the ingredients for this vegan, gluten-free chocolate pomegranate tart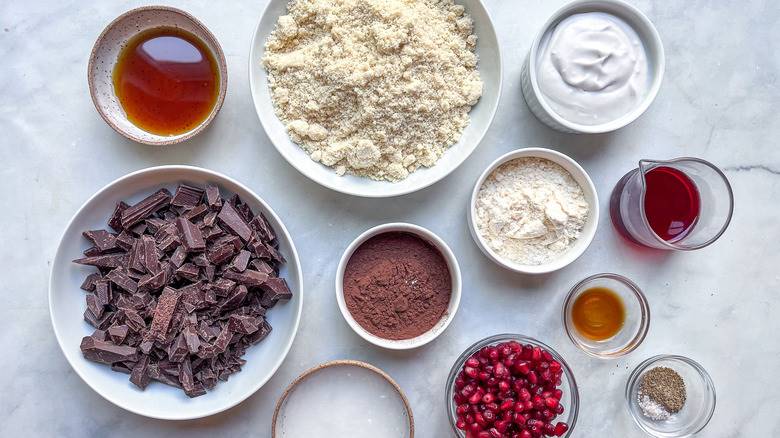 To make the gluten-free crust for this tart, you'll be using almond and coconut flour, cocoa powder, coconut oil, maple syrup, salt, and cardamom. The filling is made from canned coconut milk, pomegranate juice, dark chocolate, and vanilla extract, while you'll also need some pomegranate seeds to go on top. (Here's a handy tip for and another for you don't need.)
If you don't care for maple syrup, Case says to replace it with ¼ cup sugar plus 3 extra tablespoons of coconut oil. If you don't need the tart to be vegan, you can also use butter in place of coconut oil and heavy cream instead of coconut milk.
Bake the tart crust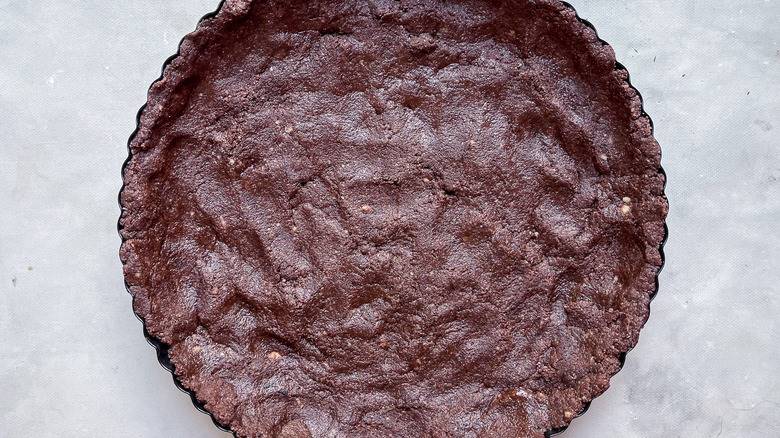 Set the oven temperature to 350 F, then stir together both types of flour along with the cardamom, cocoa, coconut oil, maple syrup, and salt. Grease an 8-inch tart pan with removable sides and press the crust mixture over the bottom and up the sides. Bake the crust for about 12 minutes. Once it feels firm and dry, take it out of the oven and let it cool.
Make the chocolate pomegranate filling
Pour the coconut milk into a pot with the pomegranate juice and bring the liquids to a boil. "When you boil the coconut milk," cautions Case, "just be sure it doesn't boil too much, otherwise it will have a burnt flavor."
Pour the liquids over the chocolate, then let it sit for a minute to soften up. Stir the chocolate into the liquids until it melts all the way. When the mixture is smooth, stir in the vanilla and pour the tart filling into the crust.
Chill the tart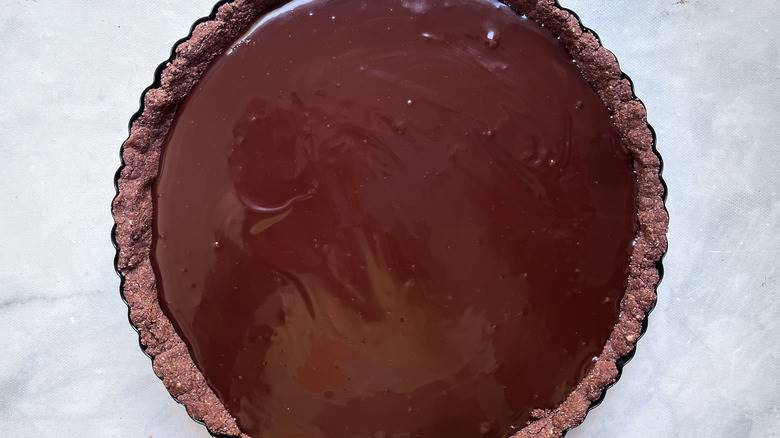 Put the tart into the refrigerator and chill it for at least 2 hours before cutting into it. Garnish the tart with the pomegranate seeds, adding blueberries, raspberries, mint leaves, or shaved chocolate if you wish. The tart is meant to stay in the refrigerator, but Case suggests that if you want to prolong the shelf life, you should store it in an airtight container.
Vegan, Gluten-Free Chocolate Pomegranate Tart Recipe
4.9 from 10 ratings
This chocolatey, pomegranate-infused tart is not only vegan, but it's also gluten-free.
Prep Time
2.17
hours
Cook Time
12
minutes
Servings
8
Slices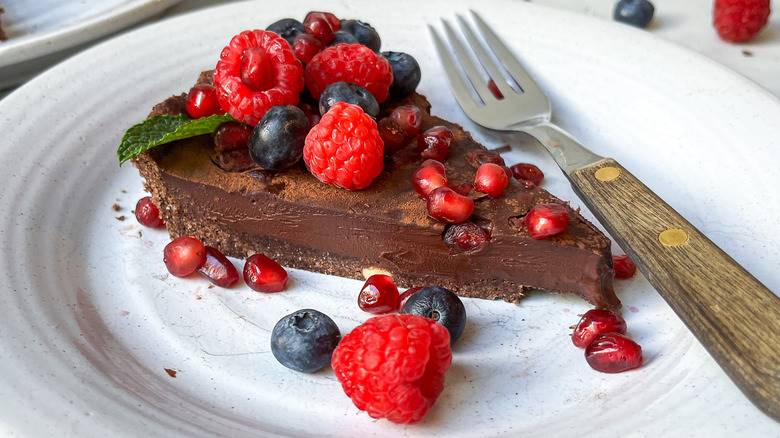 Total time: 22.37 hours
Ingredients
1 ¾ cup almond flour
¼ cup coconut flour
½ teaspoon cardamom
¼ cup cocoa powder
⅓ cup coconut oil, melted
3 tablespoons maple syrup
1 pinch sea salt
8 ounces dark chocolate, chopped
½ cup canned full-fat coconut milk
¼ cup pomegranate juice
1 teaspoon vanilla extract
½ cup pomegranate seeds
Optional Ingredients
Blueberries
Raspberries
Mint leaves
Shaved chocolate
Directions
Preheat the oven to 350 F. Lightly grease an 8-inch pan with a removable bottom with butter or coconut oil.
In a medium bowl combine the almond flour, coconut flour, cardamom, cocoa, coconut oil, maple syrup, and pinch of salt. Mix until a crust dough forms.
Press the crust mixture evenly in the bottom and up the sides of the prepared tart pan.
Bake for 12 minutes or until the crust starts to feel dry and firm. Remove it from the oven and let it cool while you begin the filling.
Place the chopped chocolate into a large bowl and set aside.
Bring the coconut milk and pomegranate juice to a light boil.
Pour the mixture over the chopped chocolate. Let it stand for a minute to melt, then whisk until it becomes smooth and creamy. Add the vanilla extract and mix well.
Pour the chocolate filling into the cooked crust.
Place tart in the refrigerator to set and cool completely, at least 2 hours or more. Optionally garnish with blueberries, mint leaves, pomegranate seeds, and shaved chocolate after the tart is chilled, then slice and serve.
Nutrition
Calories per Serving
478
Total Fat
37.4 g
Saturated Fat
18.7 g
Trans Fat
0.0 g
Cholesterol
0.9 mg
Total Carbohydrates
29.9 g
Dietary Fiber
8.4 g
Total Sugars
15.0 g
Sodium
32.5 mg
Protein
9.3 g