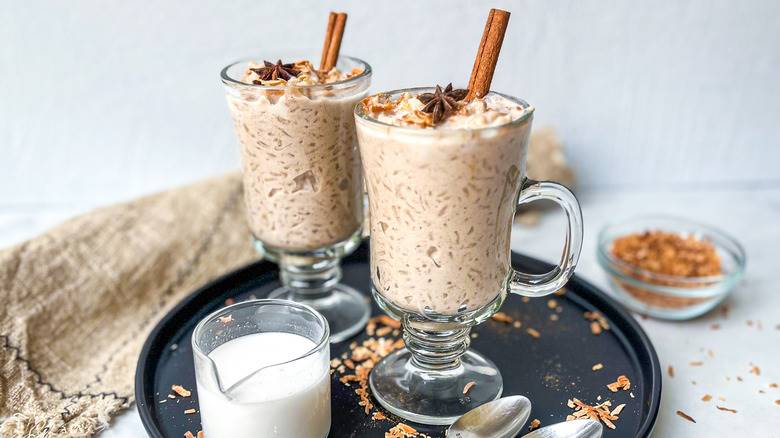 Regular rice pudding is a classic comfort food, but it is pretty plain, all things considered. If you want to take that blank canvas and turn it into something a bit more interesting, though, you can do as recipe developer Jessica Case does here and swap the milk out for coconut milk and add some chai spices such as , , cinnamon, clove, ginger, nutmeg, and pepper. 
"If you're a chai latte fan," says Case, "this recipe won't disappoint you." In fact, she would go so far as to describe the experience of eating it as akin to "getting a warm hug out of the bowl."
One note on the recipe: As it is, the dessert includes no dairy, thus making it suitable for vegan consumption. It's also gluten-free, as well. Case does say, however, "You can use whole milk or your choice of non-dairy milk instead of canned coconut milk, if you wish."
Collect the ingredients for the coconut chai rice pudding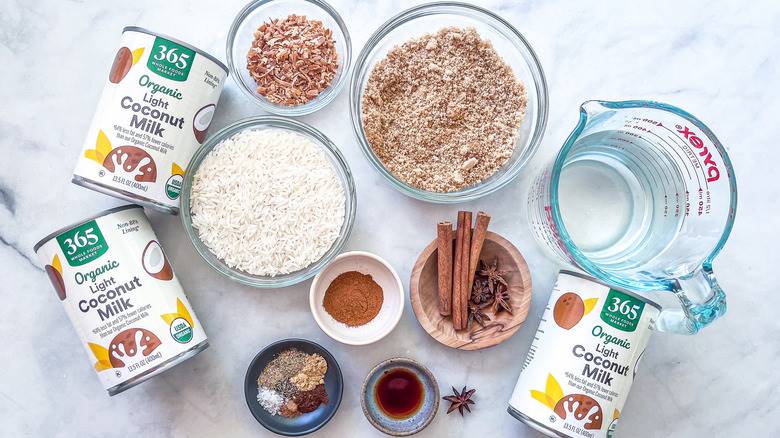 The main ingredients of the pudding itself are jasmine rice, coconut milk, and sugar (either coconut or brown). The chai-style seasonings, and there's quite a long list of these, include a cinnamon stick, star anise, ground cinnamon, ground ginger, ground cardamom, nutmeg, ground cloves, salt, pepper, and vanilla.
Start by making seasoned rice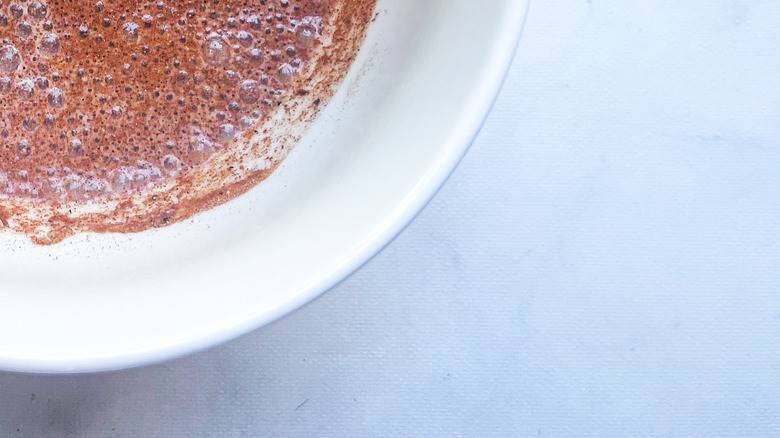 Mix the rice with the water, cinnamon stick, and star anise in a pot and bring it to a boil over medium-high heat. Add the rice to the boiling water, then lower the temperature and cover the pot. Simmer the rice for about 15 minutes until it's steamed.
As the rice cooks, combine ¼ cup coconut milk with the vanilla extract and spices, stirring until it becomes a smooth paste. Case cautions, "Don't skip this step," and goes on to explain, "It prevents the spices from clustering together when you mix it with the steamed rice."
Turn the rice into pudding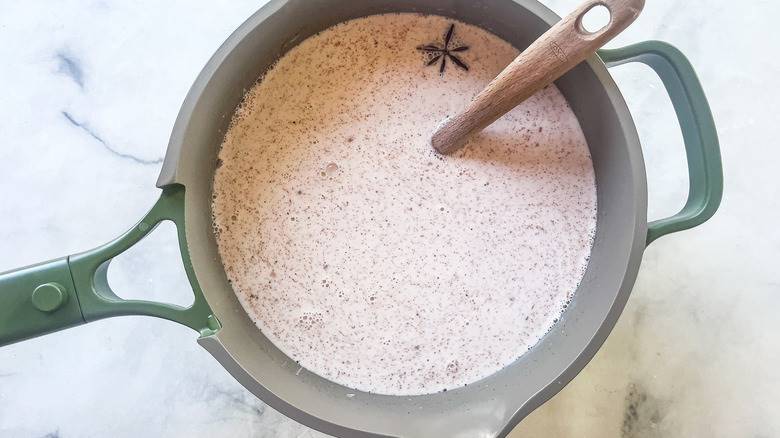 Stir 4 cups of coconut milk into the cooked rice along with the spice mixture. Simmer the rice with the coconut milk for 15 minutes uncovered. Avoid stirring the rice at this time because you actually do want it to stick together. Case says not to be put off by seeing skin form on top of the milk, as this is bound to happen.
After the 15 minutes is up, stir in the sugar and scrape any stuck-on rice off the bottom of the pot. Cook the rice for another 20 minutes, still lidless, but this time, you can stir it every so often. Once the pudding looks about as thick as yogurt, turn off the heat.
Chill the pudding before adding a last splash of coconut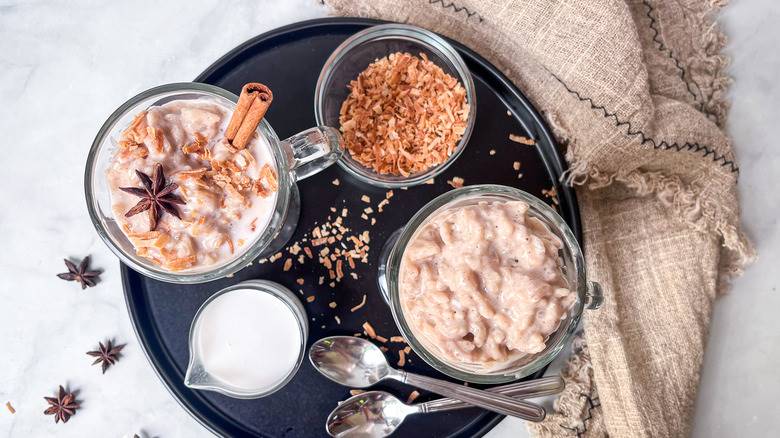 Take the cinnamon stick and star anise out of the pudding, then put it into a bowl and stick it in the refrigerator uncovered. Chill it for at least 3 hours, but up to 12 hours is okay if you prefer to delay dessert. Before you eat it, stir in the remaining coconut milk. If you want to dress it up, you can also sprinkle it with cinnamon or toasted coconut, or even shove a whole cinnamon stick into the top.
If you won't be eating all 6 helpings of pudding in a single sitting, Case advises, "Store any leftovers in a covered container in the refrigerator for up to 3 days." If that's still not enough time for you to eat the whole thing, you can always cut down the proportions to make a smaller amount using just 2, or even 1 can of coconut milk.
Coconut Chai Rice Pudding Recipe
5 from 20 ratings
This tasty coconut chai rice pudding recipe uses coconut milk and adds chai spices such as star anise, cardamom, cinnamon, clove, ginger, nutmeg, and pepper.
Prep Time
3.08
hours
Cook Time
50
minutes
Servings
6
Servings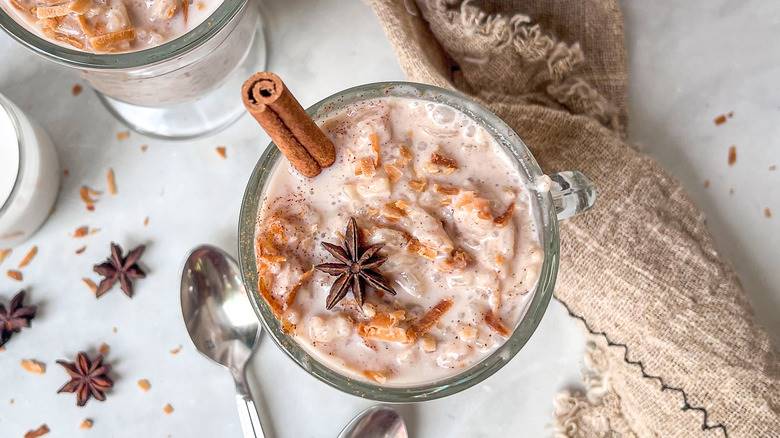 Total time: 55.92 hours
Ingredients
1 cup jasmine rice
1 ½ cup water
1 cinnamon stick
1 whole star anise
1 ½ teaspoons ground cinnamon
1 teaspoon ground ginger
¾ teaspoon ground cardamom
¼ teaspoon nutmeg
¼ teaspoon ground cloves
½ teaspoon kosher salt
⅛ teaspoon ground black pepper
1 teaspoon vanilla extract
3 (13.5-ounce) cans unsweetened coconut milk, divided
¾ cup coconut sugar or dark brown sugar
Optional Ingredients
Cinnamon sticks
Toasted coconut flakes
Directions
In a medium size pot, combine the water, cinnamon stick, and star anise.
Bring the water to a boil over medium-high heat, add the rice, lower to simmer, and cover for about 15 minutes.
Using a small bowl, add ¼ cup of the coconut milk and vanilla extract to the spices. Whisk until it becomes a smooth paste.
When the rice is finished, add 4 cups of coconut milk and the mixed spices to the pot. Stir until it's combined.
Bring the rice back to a gentle simmer, uncovered, and cook for 15 minutes without stirring. A skin will form on the surface, which is normal.
Add the coconut sugar, stir gently, and scrape the bottom of the pot. Let it simmer again for another 20 minutes, stirring occasionally or until the pudding has thickened to the consistency of yogurt.
Take out the cinnamon stick and star anise and discard.
Put the pudding in a bowl and refrigerate uncovered for at least 3 hours or up to overnight.
Before serving, stir in the rest of the coconut milk.
Scoop the pudding into individual serving dishes/small bowls and garnish with some ground cinnamon, cinnamon sticks, and toasted coconut flakes.
Nutrition
Calories per Serving
588
Total Fat
41.1 g
Saturated Fat
36.3 g
Trans Fat
0.0 g
Cholesterol
0.0 mg
Total Carbohydrates
55.7 g
Dietary Fiber
1.2 g
Total Sugars
24.2 g
Sodium
198.4 mg
Protein
6.2 g