play iconThe triangle icon that indicates to play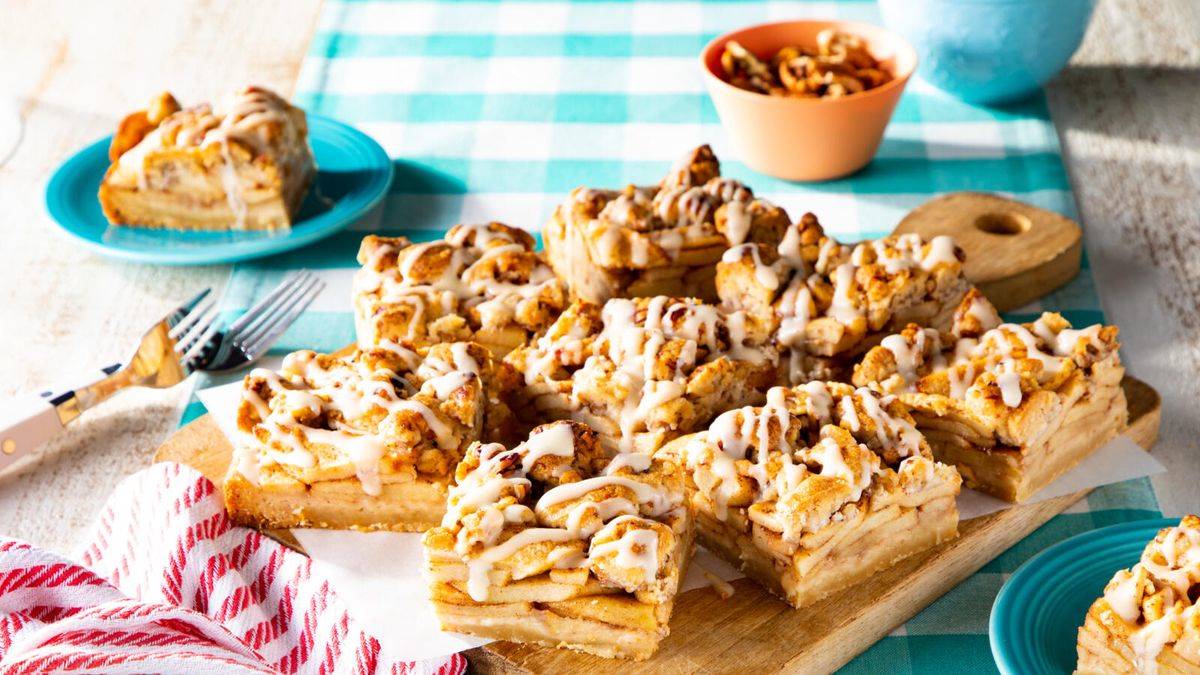 If you're looking for the perfect  for fall, the search ends here! These apple pie bars are made with a buttery shortbread dough that's used in both the base crust and the crumbly streusel topping. Fair warning: You might just enjoy the bars even more than a traditional slice of apple pie, and who could blame you? They're so much easier to serve to a crowd than classic pie and simpler to make too, thanks to the fool-proof crust. If you love these bars, be sure to check out some of our other must-make , too!
Why do apple pie bars call for vinegar?
Vinegar will quickly! In fact, many will call for tossing the apples in something acidic like vinegar or lemon juice to preserve their bright, crisp color. 
What's the best way to serve apple pie bars?
The best thing about these bars is they're delicious cold, room temperature, or warm! If you want to go the warm route, simply heat a bar up in the microwave for a few seconds. Add a scoop of ice cream on top for an extra decadent dessert!  
What are the best apples to use in apple pie bars?
No surprise here, but the  work in these dessert bars. The most important thing to remember in picking out is how well they stand up to the heat of an oven. In other words, you want apples that maintain their structure during baking rather than turning to complete mush. The two types of apples used in this recipe (Granny Smith and Honey Crisp) not only hold up remarkably well in baking, but the combination provides a perfect balance of tart and sweet flavors. Other apples you could consider substituting include: Gala, Pink Lady, Jonagold, and Braeburn. 
What is in apple pie spice?
Even if you don't already have in your cabinet, chances are, you have most (if not all) of the individual spices that make up the iconic blend: cinnamon, , allspice, and cardamom.
Do apple pie bars need to be refrigerated?
Like a , the apple pie bars below can be stored at room temperature for up to two days if they are unfrosted. Apple pie bars that are already drizzled with a cream cheese-based glaze are best kept in the refrigerator from day one.