Taylor Swift ticket prices are dropping. How much are they now?
For Swift's first two gigs at Glendale, AZ's State Farm Stadium, we found tickets going for as low as $164 before fees.
Just a month ago, tickets started at $290 before fees for the same show.
That's over $100 in savings just for waiting a month to scoop up seats.
And while all other shows on the 'Eras Tour' are still quite expensive, we'd bet that they'll become more affordable as show dates approach.
Don't believe us?
Well, look what you made us do.
For a closer look at ticket prices now versus a month ago, be sure to keep scrolling — we've got all the cheapest tickets from Feb. 17 and now, just two days before the tour officially launches.
All prices were found at the time of publication and are subject to fluctuation.
Taylor Swift 2023 tour schedule
A complete calendar including all upcoming 52 tour dates, venues and the cheapest ticket prices from Feb. 17 versus March 15.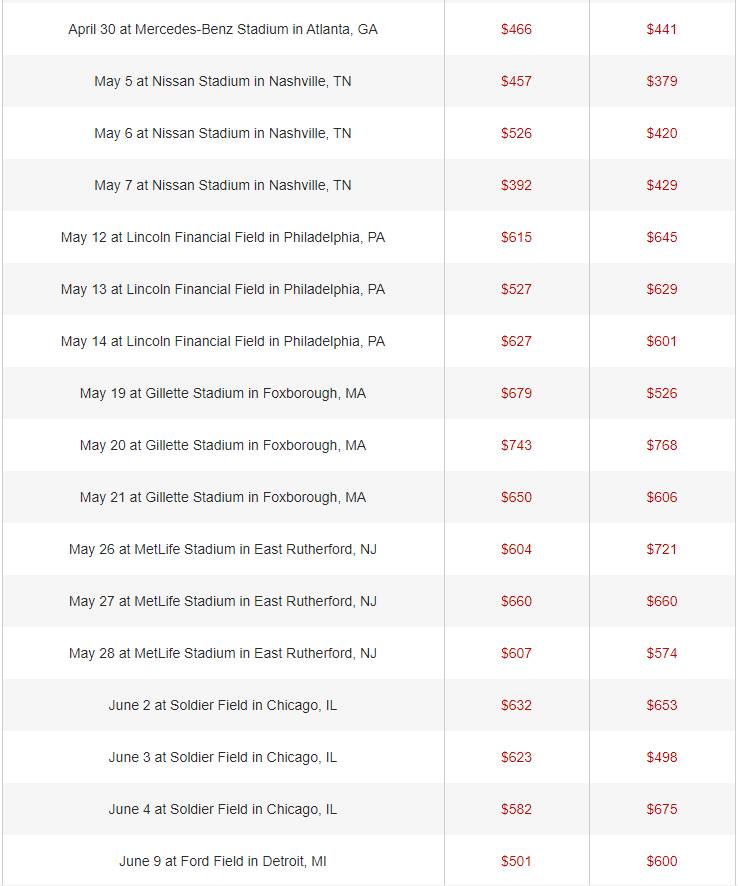 (Note: The New York Post confirmed all above prices at the publication time. All prices are subject to fluctuation and include additional fees at checkout.)
Vivid Seats is a verified secondary market ticketing platform, and prices may be higher or lower than face value, depending on demand. 
They offer a 100% buyer guarantee that states your transaction will be safe and secure and your tickets will be delivered prior to the event.
Taylor Swift opening acts
At each show, Swift will be bringing along some of the biggest names in music to help set the mood for her headlining set.
Want a sample of each artist's sound?
Below, you'll find each of the nine acts (!) she's performing with on select dates as well as their most streamed song on Spotify:
Paramore: "Misery Business"
Phoebe Bridgers: "Motion Sickness"
HAIM: "The Wire"
girl in red: "we fell in love in october"
beabadobee: "death bed (coffee for your head)"
MUNA: "Silk Chiffon"
Gracie Abrams: "i miss you, i'm sorry"
Owenn: "Baby Girl"
GAYLE: "abcdefu"
Huge concert tours in 2023
The tour announcements are out of control this year — we can barely keep up.
Here are just five of the biggest jaunts you'll want to catch live in the next few months.
• Beyoncé
• Madonna
• Drake
• Ed Sheeran
• John Mayer
Looking for more options? Check out our list of the 52 biggest concert tours in 2023 here.