Jennifer Aniston looks effortlessly elegant in a neutral ensemble as she steps out of her Paris hotel
Jennifer Aniston cut an elegant figure in white as she stepped out of her Paris hotel in the French capital on Wednesday afternoon.
The Friends star, 54, slipped into a white dress and a cream sheer cardigan as she left the accomodation alongside her entourage.
Jennifer styled the look with a series of gold chain necklaces, while otherwise keeping the look simple but glamorous. 
The actress wore her signature blonde locks in a loose, straight style and opted for a natural pallet of make-up.
Her appearance comes after she opened up about her work out routine and how she cares for herself if she hasn't slept well.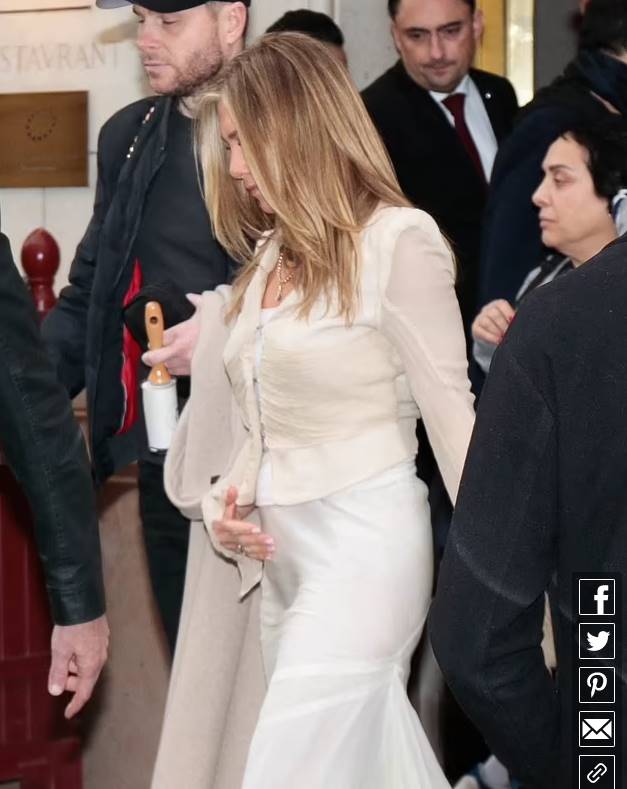 Her morning and night routine both consist of meditation, exercise, and plenty of water, but she takes it easy if she happens to have a poor night of sleep.
'I don't push myself so hard [in a workout] because that will lead to an injury when your body and your brain aren't fully rested,' said the Morning Show star to InStyle.
'I just try to do my best and just figure out everything possible that will ensure a good night's. Sleep is extraordinary. It's beautiful,' she noted.
To help others learn about and cope with insomnia, Aniston teamed up with the Seize the Night & Day program, which includes community support and resources for those experiencing sleep trouble. 
The star, whose next film is Murder Mystery 2 with Adam Sandler, also said sleep is vital.
'All of your body is getting all the work done that it put itself through during the day. You realize a lack of sleep leads to all sorts of health issues,' she told the site.
'It's a deficit you won't ever get back.' 
And she added when she was young she could sleep three to five hours a night.
'Boy, did I take it for granted when we were young. When you're younger, you kind of take it for granted.
'You think, "I can survive on three-to-five hours of sleep and I feel great," and then, all of a sudden, it just starts not to feel great and your performance isn't as up to par as it should be.'
Now, the actress is honing in on the importance of a good night's sleep.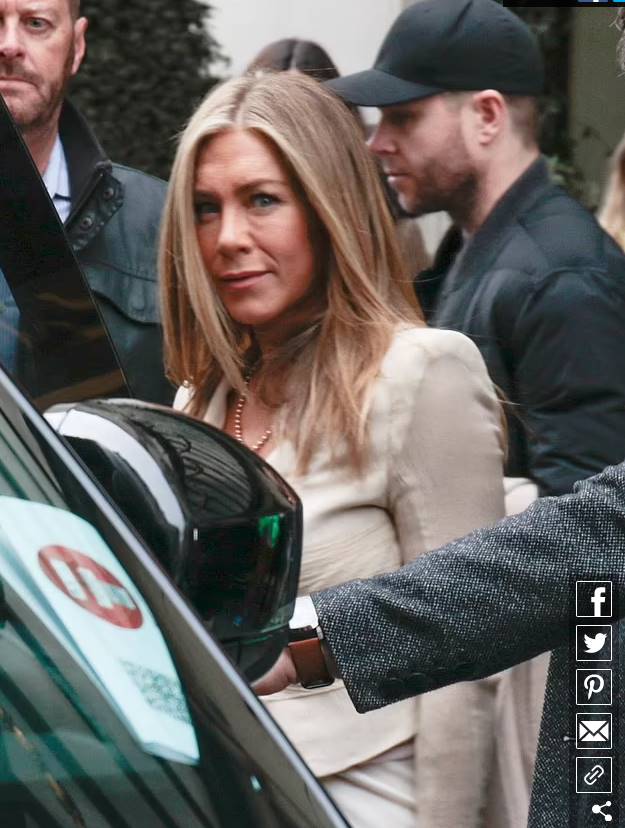 Jennifer also talked about two of her celebrity friends to InStyle.
She said her The Morning Show co-star Reese Witherspoon relies on her for wellness tips.
'Reese loves to come to me and say, "What's the latest? What do you got for me?" Usually [I] tell her my new tips and tricks,' she shared.
Jennifer, ho also has her own hair care line, LolaVie, said: ''Guys love a good hair product. My friend Jason Bateman — who has the most hair that any human being could possibly have and he's the envy of all males with maybe three grays — he is obsessed. 
'The guys have taken all the samples,' she said.
The day before Jennifer was seen in a social media video.
In the 15-second-long clip the actress said, 'If I don't have a good night's sleep the day is just a walking punishment.
'Everything's an effort and my thoughts aren't very clear,' she stammered as she chatted to the camera.
Jennifer looked typically gorgeous and youthful with her blonde hair styled in an off-center part as it fell over her chest.
She wore a long-sleeved, dark green v-neck sweater and a pair of light wash jeans.
Her face was lightly made up as she highlighted her blue eyes with mascara and metallic shadow,
Seize the Night & Day is a venture by Idorsia Pharmaceuticals and its official Instagram account reads, 'We're taking back our nights & days to help put insomnia to bed.'